When it comes to high adrenaline contact sports like NFL, Ice hockey and other sports, players are susceptible to concussion-related injuries. Even though the players are well equipped with protective wear all around, but when they are subjected to high impact collisions, they are prone to a concussion. In a high impact collision, the normal protective wear like helmets cannot control the quick rotational movement of the head.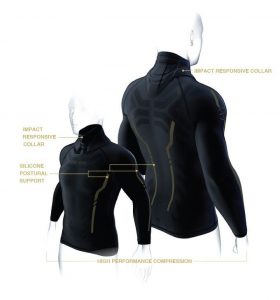 Meet HALO- the compression collar by a Canadian startup AEXOS. HALO collar is fashionable compression wear that minimises the impact of whiplash. A whiplash occurs on the impact of a sudden blow to the head and makes it jerk either forward or backwards. The accompanying impact force can tear the muscles in the neck and concussion follows. HALO collar is the output of persistent effort of AEXOS for three years partnering with medical professionals, engineers and manufacturers across five countries.
How does HALO Collar Reduce Concussion-related Injuries?
The HALO collar is made is such a way that it does not interfere with the normal flexible movements of the athletes. But when the athlete is struct by high impact collision, it stiffens thereby limiting the rotational movement due to whiplash motion of the head and neck. HALO follows a three-way protection strategy; it offers postural support for the upper body, neck support and rotational movement of the head. The company AEXOS claims that HALO collar reduces the rotational movement of the head by as much as 78 per cent. HALO is currently part of the crowdfunding campaign on Kickstarter with the aim to gather $ 76,000 to go the production. Visit the Kickstarter page to get to know the complete details and specifications of HALO collar.
Also Read: GoCube: Rubik's cube with a digital touch




HALO collar is currently available in Black and white collarways in both sleeveless and sleeved bottles. AEXOS has also partnered with Canada's Build in Innovation programme to conduct field testing and validation. It will be carried out with the Canadian Military, Royal Canadian Navy and Canadian Special Operations Forces Command (CANSOFCOM). The Halo collar is available for pre-orders starting from $120 and the shipments are expected to start from October 2018 in certain countries.