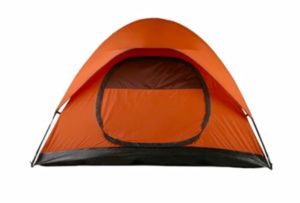 The imperial motion has come up with innovative NCT (Nano cure tent) made of specially designed fabric. The self-healing tent is capable of healing punctures and holes with friction all by itself. It is touted to be the world's first self-healing tent and the technology employed here is Nano cure tech. Whenever you go camping, staying on rainy nights is quite challenging. There are waterproof tents available in the market, but when the tent is punctured, rainwater seeps through the tents. Also, it is quite difficult to seal the puncture manually. Meet NCT tents, the self-healing, waterproof, nylon ripstop with repairing capabilities.
The nylon ripstop is extremely durable and lightweight. When the tent is punctured, the reinforced fabrics form a strong supporting layer around the puncture. The fibres, in reality, are not punctured, but they have separated apart. The nylon ripstop is embedded in a double-sided coating. When the punctured area is rubbed with the fingers, the nylon fibres in the puncture gather under the influence of heat, thereby sealing the puncture.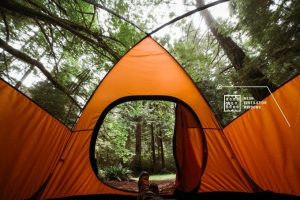 However, the self-healing effect is applicable only to small punctures and does not apply to large holes made by knives or scissors. Apart from the self-healing properties, the NCT packs impressive specifications and features:
Specifications and features of Nano Cure Tent:
-The self- healing tents are available in four colour variants: Rust, Soft Blue, Olive and Asphalt
-The NCT self-healing fabric set up is very easy, and it takes less than three minutes or less for laying the tent.
-It has a water-resistant coating, and is lightweight and weighs only 8lbs.
-Further, the nano cure tent has a tarpaulin bottom which makes sure that no water seeps into it from the bottom.
-The self-healing tent easily folds back into the original package so that folding the tent is no longer a hassle.
-The space inside the tent is no longer a constraint. It is sufficient for 3-4 people and can sleep comfortably.
-It features easy-open zip-off ventilated mesh windows which are easy to unzip, and hence you can stay cool even in the summer heat.
Also Read: Okewa rainwear is made from 100% recycled plastic bottles




Funds Raised for Self-Healing Tent Through Kickstarter Campaign
The imperial motion has set a target to raise $1,00,000 through the Kickstarter crowdfunding campaign and has raised $51,309 from 110 backers. Avail NCT self-healing fabric sample if you pledge $15 or more and you can purchase the tent itself for $200. There are 15 levels available on the campaign page with varying pledging amounts ranging from $5 to $1000. Imperial Motion will start the delivery of nano cure tent's by December 2018.
update: The fundraising campaign turned out to be unsuccessful as it was unable to achieve the set goal of $1,00,000.