Rubik's cube has been the favourite puzzle for quite some time now. If you are one of those who have tried to master the art of Rubik's cube, then you might have known how difficult it is! You might have tried an 'n" number of times to gain expertise but without any success. Although you might have solved it by any instance, it is rather impossible to maintain the consistency. But with GoCube you are sure to learn to master the puzzle systematically. The Go Cube is a Bluetooth connected Rubik's cube packed with sensors and teaches you to navigate through the 43 combinations. Further, it builds a world community that lets you battle with the best out there.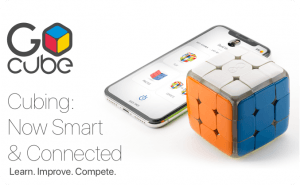 The GoCube packs some pretty impressive specifications and features. Let's have a glimpse at them:
-It features smart sensors that continuously monitors and measures the activity.
-The GoCube contains Bluetooth 5.0- Quality wireless connection.
-It features an embedded measurement unit IMU (Inertial measurement unit) which tracks the orientation and rotation of the cube.
-The cube possesses an efficient battery; it can be very easily charged via USB.
-The consumption of power is also minimal.
-Also, it has light indicators that let you know the status.
-The GoCube comes with GoCube app that teaches cubing steps and helps you improve all the time. The travel of the user from beginner to cuber to monster happens in no time!
-The app is readily available for both iOS and Android users.
-You can play with friends and strangers around the world and battle your way to the top of the leaderboards.
Furthermore, the GoCube charging stand is a display stand and charging dock for the GoCube. Further, it also acts as a phone holding stand when you are cubing the Go Cube.
Also Read: Self-healing tent that repairs holes and punctures itself by friction




The price of the GoCube starts from $69 on Kickstarter campaign page and comes with basic functionalities. For advanced features, you can opt for GoCube edge that offers advanced statistics, access to the online league with leaderboards, offline progress saves and more. If you pledge $379, you would be entitled 5x GoCube Edge, 5x GoCube apo and 5x charging stand. The campaign is currently live on Kickstarter and has collected $778,772 so far exceeding manifold the pledged goal amount of $25000 and still counting. With still a bit of time left for the end of the campaign, the numbers are sure to swell further! The company is planning to shift the orders from March 2019.