The foldable smartphone has been the fantasy of many smartphone makers for quite some time now. Although many renders and leaks surface from time to time concerning the prototypes, none have been concrete so far. Meet FlexPai- the world's first foldable smartphone from Royole. While major smartphone players like Apple, Samsung, Huawei, LG, and Xiaomi still struggle to come up with a standardised model, they are still struggling to make it a reality.
Royole has nowhere emerged as the first company to release a foldable smartphone. Royole has been working to perfect the foldable smartphone model since 2012 and now it is the output of untiring efforts of more than six long years. Right now, the product is available for purchase as a developer version from November 2019. Undoubtedly the focal point of the foldable smartphone is its large 7.8-inch flexible display. When opened, both the displays measure roughly around 4-inches. With such a large display, obviously, there needs to be some compromise with regard to the resolution and Flexpai offers QHD resolution of 1920X1440 with a pixel density of 308ppi.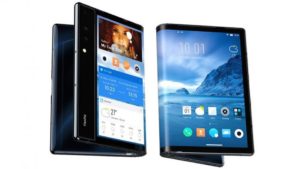 When folded, the two displays does not exactly situp flat but will have a wedged fold. One side of the screen automatically turns off saving power. Both the screens are held in place with the help of magnets. Also, the hinge of the fold houses a screen with shortcuts to apps such as the camera. You no need to worry about the lifetime of the foldable screen as Royole ensures the screen to last for 2,00,000 folds. Coming to the dimensions, the device measures 190.3mmX134X7.6mm and weighs 320grams.
Foldable design
Since the device is not foldable as a flat one, it is quite difficult to fit in your pocket. As for the camera, Flexpai houses a dual camera set up with a 16Mp wide-angle camera and a 20MP telephoto camera. There is no selfie camera; as the display can be folded to capture selfies. Further, there is a flash along with OIS (Optical Image stabilisation) feature that ensures to capture decent photos in low-light.worlds first foldable smartphone.

Other Features
FlexPai runs on a special Android version dubbed Water OS that suits split screen devices. The device packs a powerful Qualcomm Snapdragon 855 chipsets under its hood. The SOC is paired with either 6GB or 8GB RAM and comes in two storage variants 128GB and 256GB. For those looking to enjoy additional memory, the company also offers an additional memory card support up to 256GB.
Also Read: Breadbot- Robotic mini bakery makes 235 loaves of bread per day and self-cleanable
There are a dual SIM tray and a fingerprint scanner next to the USB-C connection port. However, there is no 3.5mm headphone jack. Instead, the device packs USB-C to 3.5mm connector which will be provided in the box. Apart the foldable smartphone would be powered by a 3800mAh battery. For a device with such a large display, the battery might appear to be on the shorter side. But it comes with quick charge support and hence may not be a major problem.
Pricing:
You may expect the price to be on the higher side considering the special features it possesses! The developer version is expected to cost around $1318 for the 128GB model.