Xiaomi president, Lin Bin teased a new smartphone on Weibo sporting a whopping 48MP camera. Not long ago, Lin Bin shared the 5G variant of Mi Mix 3 on Weibo. Only a portion of the rear end of the phone appears in the image. Although dual LED flash is clearly visible, it is not clear about the number of cameras. Also, it appears the phone is made of glass. Besides the dual LED flash 48MP camera text appears, also seen is the volume control butt on on the left edge of the phone. There are no clear details of the number of camera sensors, but the camera appears to be raised a little.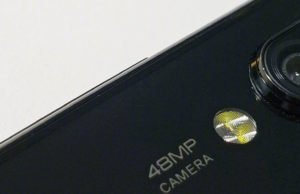 Apart from it, Lin Bin did not share any further details. However, he did mention that he has been using the phone for the past few weeks and also that it would be launched in January or MWC in February 2019. If everything goes as planned, the new smartphone touted as the successor to Mi8 (might be Mi9) would be the Xiaomi's first flagship phone sporting 48MP camera. So, the new smartphone could sport either Sony's IMX 586 48MP sensor or the Samsung's ISOCELL GMI 48MP sensor.
Also Read: Samsung Foldable Galaxy F would be limited edition targeting 40's customers
Also, there is a possibility that the flagship could sport the newly launched Snapdragon 855 SoC with 10GB RAM. As far as the pricing is concerned, Mi8 is priced around $400, and hence the rumoured Mi 9 would cost somewhere around $500. If everything goes as planned, Xiaomi would join the elite list featuring Samsung, Sony and Nokia with 48 MP sensors.