In what happens to be an isolated incident, Xiaomi Mi A1 explodes (Xiaomi Mi A1 blast) when the device was left charging the whole night. Luckily, the owner was unhurt. If you look back Samsung has to bear the brunt of the customers owing to the battery explosions of Galaxy Note 7 in the past. This has left the company's reputation in dire straits forcing the company to issue a public apology and also discontinue the production of the devices. Thereafter, Samsung issued an official statement assuring its customers that such incidents would not repeat in the future. Also, not long ago, we have reported an incident, wherein the Samsung Galaxy Note 9 caught fire in a woman's purse.
Redmi Mi A1 Blast: Mi Phone Blast News
Now a new report surfaced that claims Xiaomi Mi A1 blast and caught flames while the owner was asleep. According to the complainant, the Mi phone blast took place when it was kept on charging and was close to the owner. The device was kept on the nightstand, and the owner did not notice the explosion until he woke up in the morning. Apparently, the owner happens to be shaken by some sort of noise in the night (Mi blast), but he ignored it and went back to sleep.  It is further learned that the device was in perfect working condition and did not have any heaving issues or any other problems of the sort prior to the explosion.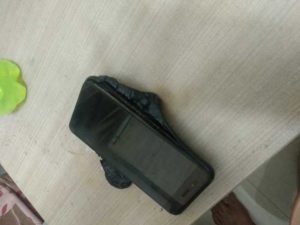 The device was covered in a protective shell and it played a vital role in minimising the effects of the explosion. From the mi phone blast images given in the reports, it appears the phone has been completely damaged in the explosion. According to the source, the owner has been using the phone for the past 8 months. They reported the incident to the customer care but Xiaomi is yet to issue an official response. Most of the incidents reported in the past with regard to explosions took place when they are left for charging for a long time. With larger batteries and faster charging, it is better to avoid leaving your phone charging overnight. Also, make sure to place your phone in a safe distance away from your bed.
Also Read: Jio Balance Check: How to Check Jio Balance, Jio 4G Data Balance, Jio USSD Codes




There is no mention of the location where the incident took place. The M1 A1 has been a global success and paved the way for the launch of its successors like Mi A2 and A2 lite.