International Consumer Electronics Show (CES 2019) is around the corner awaiting the launch of many exciting gadgets and innovations. Among them is the Breadbot, which is all set to carve a niche for itself at the electronics show. It is a robotic mini bakery that makes 235 loaves of bread per day. The autonomous bread baking machine is the brainchild of Wilkinson Baking company. The machine is completely transparent and sure to attract the consumers at this year's CES. The machine is a visual treat for customers and allows them to view the entire process right from the scratch until completion.
With its whopping 22 square foot base, the device is meant for grocery stores and speciality shops. The machine makes 10 loaves of bread per hour. The machine measures 120X53-inches in dimensions. It features an Auto start and stops option so that the owner can schedule the preparation in advance to opening the store. After the start and stop parameters are set, breadbot spreads production throughout the day. As a result, breadbot makes fresh bread all day long.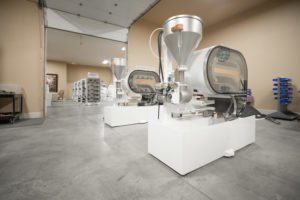 Breadbot is fully automated, it is equipped with multiple sensors that continuously monitor various parameters critical for perfect baking. It contains about 20 sensors that continuously monitor the process at the rate of 100 times a second. It has a touch screen and a display where one can monitor the process from time to time. The staff can watch the display to get the info regarding oven temperature, bakery status, a number of loaves and remaining time for loading the dry mix. Also, it issues certain requests to the workers in between whenever needed. For instance, in cases of need for more mix, emptying the cabinet and so on.
Also Read: Lynx knife-a versatile credit-card sized cutting tool that fits in your pocket




On a whole, a worker needs to dedicate just 40 minutes of time that too only for pouring the mix and slicing the bread. It has self-cleaning ability wherein the machine runs a cleaning cycle after the completion of the process. However, the worker needs to wipe down the surfaces. The company also offers a representative for each unit to monitor the bakery off-site and to answer any queries.