Meet Lynx knife, the versatile and credit card-sized cutting tool that fits perfectly in your pocket. The tool that comes coated with titanium is enclosed in a bituminized paper, which is tear-proof and water-resistant. The knife is priced $95 and you can order it from the Jho Knives website. It is packed with a chisel grind and steel edge that is enough for slicing, chopping, and shaving. Unlike other portable tools that come in multiple folds, Lynx has a quite simplistic design. It is very important to follow a minimalistic design for every day tools so that they can be carried without any hassle.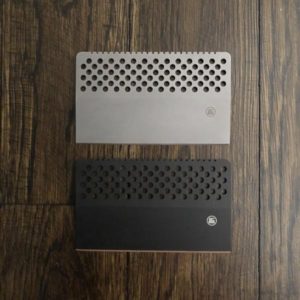 Lynx Knife: Credit Card-Sized Cutting Tool Features
The knife is made up of VG10 stainless steel (cryogenic hardening HRC:58-60) with a sharp edge on one side. The opposite edges of the blade are made of perforations for easy gripping. The knife offers tremendous grip and is found to perform cutting tasks with ease when the oil is poured onto the blade. It is a typical pocket knife without much weight, which can be easily stored and can be used when required.
Also Read: How hackers bypass vein authentication system
If you take a look at the dimensions, the cutting tool measures 88X50mm that translates to 3.4X2 inches. Further, it comes with a thickness of 2mm that equals 0.08-inches. It is safely enclosed in a protective sheath and can slide in and slide out for performing its functions. You can purchase a Lynx knife with a bead blast finish option or with a titanium coated finish. Jho knives will start shipping the products from Jan 2, 2019.