Living up to the expectations, CES 2019 (Consumer Electronics Show) has been the home to a number of exciting Gadgets. The latest among them is the Cleer Mirage Bluetooth speaker that sports a foldable AMOLED display. From a distance, the speaker appears to be levitating. On closure look, there are slimmer stands above and below the speakers sporting physical volume and playback controls.Off late, there has been much focus on foldable smartphones with flexible displays. CES 2019 witnessed the arrival of world's first foldable smartphone Flex Pai from Royole.
Similar to other gadgets, you might be wondering whether Cleer Mirage remains as a concept! That's not to be the case and the good news is that the company is planning to release the product in later 2019. According to the source
, there was no visible distortion in the display nor any motion blur on playing music video.
Features of Cleer Mirage Bluetooth speaker:
Design:
Cleer Mirage houses a cylindrically shaped speaker with a flexible 7.8-inch AMOLED display wrapped around it. The design allows for a 360-degree sound output thereby facilitating uniform distribution of the sound when placed in the middle of the room.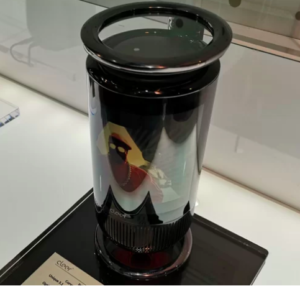 Integrated voice Assistant: 
The Bluetooth speaker features an integrated Alexa digital assistant so that you can access playlists using voice commands.
Connectivity features: 
The speaker supports Bluetooth 4.2 and Wi-Fi connectivity, and hence can be connected to a smartphone or a laptop.
LED display:
There is also a LED display at the bottom that changes colour based on the song that you are listening.
Also Read: Slighter's smart cigarette lighter helps you quit smoking without withdrawal symptoms: CES 2019
  This Smart electric toothbrush encourages kids to brush their teeth via interactive gaming
Pricing and Availability:
The company plans to release the Bluetooth speaker in the third quarter of 2019. The likely price of the device is $499.