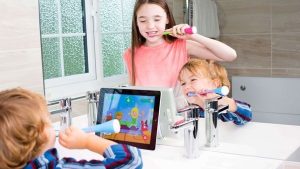 Playbrush is set to launch its first interactive smart toothbrush called smart sonic that uses Bluetooth to connect to games on the tablet. It works depending on the length of time the kids brush their teeth. Playbrush makes every brush movement into gameplay. The children actively control the games as they brush their teeth. Each game lasts for 2 minutes and encourages children to brush at the correct speed and at all angles of the teeth.
For every parent, getting kids to brush the teeth is quite a daunting task. Further, if the kids do not brush properly, it leads to dental problems. This further piles up the additional financial burden on the parents. Playbrush translates the boring brushing routines into exciting gameplay. The smart toothbrushes have been designed for kids aged between 3-12 years. The smart toothbrush connects to mobile via Bluetooth and allows children to play various games such as flying planes, paint masterpieces and win dance battles.
In one of the scientific studies conducted by Unilever in 2017, it was found that the children brushed the teeth twice longer and regular with this brush. The app offers various games based on the type of subscription. The app is available for both iOS and Google Play. Initially, the company is offering four free games with the Smart Sonic toothbrush. Further, children can help lower subscription costs by collecting coins. Regular brushing helps fetch more coins, and hence they can be redeemed to lower the subscription costs further.
Also Read: AI-powered Kaia app reduced lower back pain by 40% in clinical studies
Also, there is a multiplayer option that allows two children to brush and play the game simultaneously. The Smart Sonic (fully integrated electric toothbrush) comes on the back of the first Smart toothbrush (Playbrush Smart) that was released earlier this year. The Playbrush smart features attachment for any manual toothbrush. The Playbrush Smart Sonic is set to be released in September and is available for pre-order at £29.99.