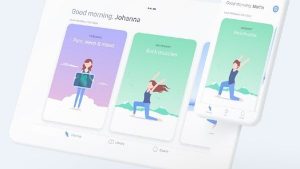 Kaia health, a digital therapy company has launched the AI-powered Kaia app in association with physiotherapists, pain management physicians, orthopaedic surgeons and clinical psychologists. The app has been approved as a class I medical product by EU. The app has tasted success in Germany and has now been launched in U.K. Chronic lower back pain is considered as the prime cause for disability. Owing to the sedentary life many people have now become victims of this ailment. However, it is found that 90% of the lower back pain cases are nonspecific and allows users to self-manage the pain.
The Kaia app uses a multidisciplinary digital approach that includes user education, physiological and psychological strategies.  The AI software has tailormade treatment programmes targetting specific users from a total of 120 exercises. Its motion sensor technology continuously monitors that the exercises and ensures they are performed in a systematic manner using a smartphone. Each exercise session lasts for 15 minutes and can be accessed 24 hours a day. Further, the app has a chat feature that allows users to directly connect with sports psychologists and trainers for any queries and motivation.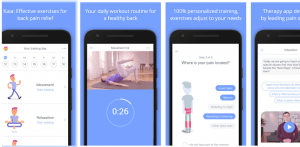 Further, the app proved its mettle in the clinical studies, wherein it was able to lower back pain by 40%. This is higher than the recommended threshold for pain improvement. The Kaia app is a grand success in Germany, and it is downloaded more than 1,00,000 times in its first year. The app is now being offered free of charge to 20 million Germans, thanks to the huge discounts and other reimbursements offered by the Government. Kaia looks to replicate the success in the UK in which one-third population are the victims of lower back pain.
Also Read: Self-healing tent that repairs holes and punctures itself by friction
The app is available for download on both Google Play and App store. Initially, the users can avail the service for free in the first seven days. Later they have to pay an amount to continue using the app; to unlock the full functionality, users have to shell out £34.99 for three months. To avail the programme for six months Kaia charges £54.99 and one year package costs you £69.99.