Starting today YouTube
is rolling out new tools for digital well-being. This was revealed in the
official YouTube blog post
. The new tools let you know the amount of time you spent watching YouTube videos. So, this helps the users informed about the time being spent and also helps them to make more wise decisions about how YouTube fits their life.
YouTube Tools Digital Well-Being- Account menu:
YouTube builds a profile in the account menu for all users that offer a glimpse of the time spent watching the videos. The profile section includes the watch history, videos watched today, yesterday and for the past seven days.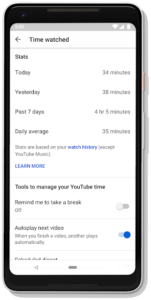 Reminds to take a break:
It is a very common scenario for everyone to get immersed in the YouTube videos without keeping an eye on the amount of time spent watching. Now, the new pop up feature reminds you to take a break in between videos. You can set the time limit for the pop-up notification. Just head over to settings and set the appropriate time limit for you to take a break. When your watch time approaches the set limit a small pop up appears on the screen that reminds you of the break.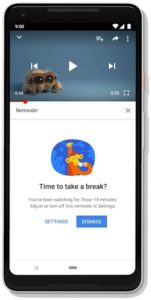 Control over your notifications:
YouTube also provides you with the option to schedule the time to receive the pop-up notification. There is also an option to receive multiple YouTube notifications at a single time. To set, head over to settings and set the appropriate time of the day you would like to receive the one notification per day.
Controlling vibration notifications and sound:
it would be very irritating to hear the sound in the middle of the night when you are in deep sleep. Now YouTube lets you disable the sound and vibration alerts between 10 PM and 8 AM. You also have the option to set the start and end time by hovering over to settings.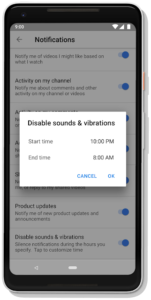 Also Read: Google Assistant's new feature delivers only good news filtering negative content
This is a major stride forward for the digital well-being of the users. These new features facilitate users to have good control over their watch time and to make better decisions. The new features allow users to better understand their tech usage and keep a close eye on their digital well-being.