International footwear brand Reebok has launched plant-based sustainable shoes made from cotton and corn. The shoes are the first-ever 75% USDA certified bio-based shoes. The company is selling only a limited number of NPC UK cotton+ corn unisex shoes at $95 through its website. Reebok is not the first brand to makes its presence in the sustainable market. Last year in July Adidas has announced to make the shoes and sportswear lines from the recycled plastic by 2024. It is estimated that roughly twenty billion pairs of shoes are produced annually, and roughly 300 million of them end up in landfills.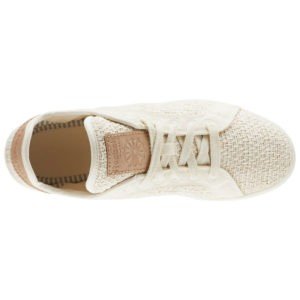 How are the sustainable shoes made?
The upper portion of the shoes is made of namesake cotton. The sole is derived from the corn-based plastic substitute and adds comfort and durability. Even the inner sole is made of castor seed oil. The shoes are available in only natural/chalk colour combo, and Reebok did not use any artificial colours in the manufacturing of shoes. The corn employed here is not the one we eat, but it is the one that is fed to the livestock. The corn is milled and fermented into the bio-based product before it is moulded into the shoe.
Also Read: Google launches Cameo, a video-based Q&A app aimed at celebs and public figures
However, even though the shoes are sustainable, they are not completely biodegradable. Reebok says that the company is working on a second version of the shoes to make them compostable. Nevertheless,  the shoes are sustainable when compared to the traditional shoes that are made from rubber and oil-based foam known to pollute the air, water and soil. It took Reebok five years to manufacture the eco-friendly product into the form, that is fully functional and appealing to the consumers.
http://https://www.youtube.com/watch?v=DN6dUVlawdg