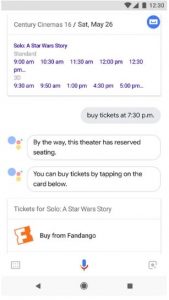 Google Assistant now lets you buy movie tickets by integrating Fandango into its assistant. Fandango is an American company that sells movie tickets via the website or mobile app. Google Assistant has been constantly in the news with new capabilities
adding to its arsenal. It is of no surprise that Google Assistant has emerged as the
Smartest Assistant in a recent study
. The new feature is going live on May 4 which is celebrated as a star wars day, the official holiday for star wars fans.
Now you can buy movie tickets on the go with your voice. Just say "showtimes near me" to Google Assistant and it displays a list of movies along with their show times. When you have shortlisted one you can prolong the conversation by further asking the Assistant to know the cast of the movie. Google Assistant even lets you watch the trailer for the movie by asking "show me the trailer".
Also Read: Google pay is now available on iOS and desktop browsers
You can even buy advance tickets for the upcoming movies using this feature. Once you have selected the movie and showtime you can ask the Assistant to pick the seats for you. You can then proceed with the transaction and this Assistant saves your time in booking tickets. But there was a catch-up; this feature only works with theatres that have partnered with Fandango. You can also use this service on Google Home smart speaker.




You will then be re-directed to the smartphone to finalise your purchase. Google is commemorating May 4 as the star wars day and is offering massive discounts star wars apps, audiobooks, e-books and comic books in Google Play Store. Currently, the feature will be available only for Android users and iOS users has to wait for a bit of time as Google is expected to roll out the feature sometime later this year.