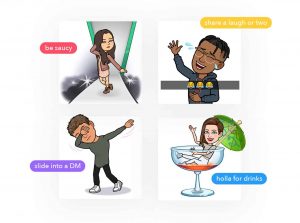 Tinder will begin testing Bitmoji in its app starting today in countries like Canada and Mexico. The feature works via Snap Kit that allows third-party apps to take advantage of Snap chats login for signup features like Bitmoji. So, now users in the testing regions would be able to send Bitmoji's in their chat conversations. With Bitmoji Tinder is offering its users a new way to play with their matches. Further, it is handy for those users who do not wish to send their real photos. It is only a test feature, so Tinder may or may not roll out the feature globally.
All users who have both Tinder and Snap chat on their phones can make use of the feature in the test regions. All you to do click on the green Bitmoji that appears next to the chat box. Then Snap kit to enter your Snap chat credentials and after successful authentication, you are good to go! The cartoon-like Bitmoji's are sure to up your flirting game and also aids to impress your flirt with hilarious sticker Jokes.
Tinder launched the Snap kit platform back in June and allows third-party developers to integrate Snapchat features into their own apps. It is speculated that Tinder would roll out the test feature in the U.S by the end of the summer. Further, Snapchat ensured that users need not worry about the privacy while signing in third-party apps. Users only need to input the Snapchat display name and further you no need to enter any email or phone number. Also, Snapchat does not share the demographic information and friends list to the third-party apps.
Also Read: Aston Martin's Luxurious Flying Car Concept to debut at Farnborough Airshow




For added security, Snap kit disconnects users who sign in via Snapchat in third-party apps after 90 days of inactivity. Further third party apps who want to integrate Snapchat feature has to go through a human review process. Only the developers who agree to policy standards of Snap kit program are granted approval for their apps.