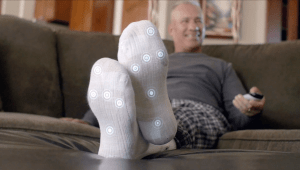 Siren, a San-Francisco based startup has unveiled smart socks that are embedded with microsensors and alerts diabetic patients about foot injuries. The socks powered by Neurofabric technology and monitor foot temperatures of diabetic patients continuously to detect potential injuries. For diabetic patients, it is critical to detect early injuries that arise from inflammation, but they suffer from numbness in the feet and legs due to nerve damage experience.
Effects of Inflammation: 
Inflammation leads to foot ulcers, and the majority of the ulcers become infected and lead to amputations. It is estimated that about 1,00,00 diabetic people loose legs or feet due to infected ulcers. About 56 percent of foot ulcers become infected, and about 20 per cent of those leads to amputations. Majority of diabetic patients around 80 per cent that are subjected to amputations will die within five years. Current methods for early detection of inflammation involve making regular visits to a doctor and get six spots on each foot manually checked. This is very inefficient and time-consuming process.
About Siren's smart socks:
Keeping the above problems in view Siren has unveiled smart socks that are embedded with microsensors. Each sock contains six sensors, and a pair of socks will contain twelve sensors in total. These socks can be worn as ordinary socks. The microsensors continuously monitor foot for raise in temperature which indicates inflammation and alerts the user via smartphone notification or a message. Since inflammation is the precursor for foot ulcers the user, the injuries can be detected before any potential damage. Moreover, the socks are machine washable for more than 100 washes, and you need to charge them.
Also Read: This ear-massaging acupressure device reduces your stress and anxiety
Further, you need to carry a smartphone along with you as Siren provides a Bluetooth wall plug and sends the data received from the microsensors to the Online portal via Wi-FI. Company co-founder and CEO, Ran Ma said that Siren had raised $3.4 million from DCM Khosla ventures and founders fund. Siren is currently offering the socks for a monthly subscription of $19.95 in which the user receives new socks every six months and access to Siren digital service.