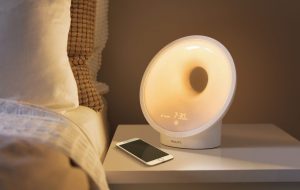 Philips has unveiled a new sleep enhancing Somneo smart connected lamps coupled with smartphone app tracks not only your sleep pattern but also enhances bedtime experience. It unveiled the product at IFA's Global press conference 2018 in Berlin, which is one of the oldest tech conferences in Europe. Sleep plays a vital role in physical as well as mental health. Experts suggest a good night sleep of 7-9 hours for healthy well-being. But hectic schedules and stress deprive you of the deep sleep, and it is no surprise that 40 percent of the people aged between 25-45 gets less than 7 hours of sleep at night. Also, most of the time we experience disturbed sleep.
The sleep time has also been found to be important as sleeping late increases the risk of dying soon. With the evolution of technology, there have been many devices that reduce stress and improves sleep. Earlier, we have witnessed an acupressure device
that wards off your stress and anxiety levels and improves your sleep experience. The Somneo smart connected lamps pack a lot of exciting features that will ensure deep sleep as well as wards off astonishing wake up in the mornings. Let's take a look at the features of the smart lamps:
-The smart lamps are a range of Philips therapeutic systems and sports a nightstand lamp, alarm clock and a sensor on the back.
-The device not only ensures you to have a deep sleep but also makes sure you have a smooth wake up experience in the morning, unlike a shocking wakeup that happens with the traditional alarms. This is made possible by the simulated sunrise feature that gradually increases light with a shift in colour from red to orange and finally to bright yellow light.
-The smart device has an added IoT (Intenet of things) connectivity and packs new sensors. It also has simulated sunset wherein the light gradually decreases until the room turns dark.
-Another exciting feature is the light-guided breathing system that facilitates you to time your breaths in response to the light and sound pulses.
-The SmartSleep ecosystem is coupled with a SleepMapper app so that you can control the wake-up, sunrise, sunset times using a smartphone. You can also check your sleep times to assess the quality of the sleep.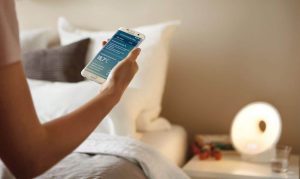 Also Read: Measuring blood sugar levels in diabetics will no longer be painful




-Finally, there is an Ambitrack sensor located on the back of the lamp that tracks the humidity, temperature, brightness and also informs you of any disruptive noises that occur in the night. This in a way facilitates you to make the necessary modifications to your living room, so that the sleep quality is enhanced further.
Coming to the pricing, until now there has been no official confirmation from Philips. As far as the sale is concerned, it is likely to begin by the end of the year.