Milk occupies a major proportion of our diet. It is highly perishable and prone to spoilage easily. Even though it is well pasteurised, froze using additives, still, the perishability of the milk is questionable. Also, it is quite difficult to know whether the milk is stale or fresh. Although dairy industries use spectrophotometers for the analysis of freshness, it is time-consuming and associated with huge costs.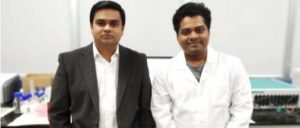 Researchers from IIT Guwahati has developed a simple paper biosensor that detects the freshness of milk and also lets you know the effectiveness of pasteurisation. Associate professor, Dr Pranjal Chandra and doctoral student Kuldeep Mahato are the persons behind its development. A milk enzyme Alkaline Phosphatase (ALP) is a key indicator of milk quality and its presence even after pasteurisation indicates the presence of microbes. The kit contains simple paper biosensor containing anti-ALP probes and binds with ALP enzyme in the milk. So, the colour of the paper discs changes from white to yellow colour when there is ALP in the milk. The biosensor present in the paper discs can be used for both qualitative and quantitative analysis.
The kit is synonymous with pregnancy test strips. The colour change can be photographed using a smartphone and can be compared with the standard data present in the phone. Hence, the paper kit detects not only the presence of ALP in milk but also lets you quantify the exact amount.
Preparation of the detector:
Researchers used ordinary filter paper for preparation of detector. They cut the filter paper into paper discs using office punch machine. The paper discs are impregnated with chemical probes (antibodies) that bind with ALP enzyme. They placed the paper discs containing probe on a 2cm square transparent cellulose acetate film. It was then covered by another cellulose acetate film. The milk is injected through the tiny hole in the cover. If there is ALP in the milk, then there occurs a coloured reaction due to the binding of anti-ALP probes with the ALP enzyme. It roughly takes about 15 minutes for the detection of raw milk from the pasteurised one. Further, the results can be interpreted with the assistance of a smartphone.
Experimental validation:
The team then used the kit for the analysis of milk samples collected from villages and also in samples where the milk was spiked with ALP. In both these analysis, the kit displayed results with a whopping 94 per cent accuracy.
Applications:




The kit comes in handy for the detection of the freshness of milk in milk bars, collection centres and kitchens.
Also, it can be used for the detection of ALP in various body fluids in clinics.