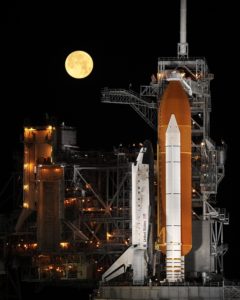 Japanese Billionaire Yasuki Maezawa is all set to become the first tourist to fly around the moon on Space X's Big Falcon rocket. Elon Musk announced this at an event held at company's headquarters in Los Angeles suburb of Hawthrone on Monday evening. Yasuki Mawzawa is the founder of Japanese online retailers Zozotown and Start today. Yasuki who is 42 has a net worth of $2.9billion and he is reportedly the 18th richest man in Japan according to Forbes Magazine. It was revealed at the Space X event today. "Ever since I was a kid I loved the moon. " Finally I can tell you I choose to go to the moon," said the billionaire.
No man has come close to the surface of the moon since Apollo Mission 1972. Only two dozens of tourists visited the moon until now. If everything goes as planned Yasuki would be the first to do so in nearly half the century. Reusable Big Falcon Rocket is the Flagship of Elon Musk's vision to create a permanent human presence on Mars. Musk has teased in various tweets leading up to the event about the trip and passenger's identity. While Big Falcon Rocket (BFR) is yet to be built Musk plans to get it ready before 2022 for an unpiloted trip and by 2024 with the crewed trip to Mars. The BFR is a massive booster rocket with the spaceship attached. The price for the private lunar mission is not disclosed.
Don't Miss: Dynamic focussed sound system delivers high-quality audio to each individual's ear; maintains privacy in shared vehicle




Space X has created ripples in the space industry with the relatively cheap reusable Falcon rockets. The company has so far completed 50 successful falcon launches and has also had obtained billions of dollars contracts with U.S  Department of defence and NASA.  The BFR was initially announced in 2016 and touted to be the most potent rocket in history. The carrying capacity of BFR is expected to be around 100 people and is an intricate part of Musk's vision to colonise Mars and Moon.