A team of researchers at Kaunas University of Technology (KTU), Lithuania, in collaboration with the startup Smartmedic has developed Buddy smart life collar that saves children from accidental drowning. The parents have to keep an eye on their children all the time. If they happen to reside near a river or a lake or have their own swimming pool, then it becomes critical to keep a track on their child all the time. The prototype is the brainchild of Tadas Juknius of Smartmedic, who was an earlier Ph.D. student at Kaunas University of Technology (KTU). Further, with the assistance of researchers of KTU Faculty of Mechanical engineering and design, Juknius improved the prototype.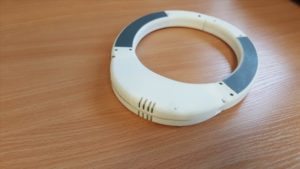 As evidenced by the statistics, drowning happens to be the major cause of accidental death among children of 1-4 years. In Europe, it is estimated that every year 5000 children die due to accidental drowning. It mostly happens in rivers and lakes and you cannot blame parents as sole supervision might not be sufficient. Children of tender age happen to be very active and even though parents keep a close eye on them all the time, disaster can strike anytime.
Meet Buddy, the smart life collar that serves as a lifeguard for children and prevents from accidental drowning. The neck collar weighs only 120 grams similar to the weight of a smartphone and can be easily worn around the neck. It doesn't exert any sort of pressure or for that matter doesn't restrict the head moments of the children wearing it.
How does the Buddy Smart Life-Collar function?
-Buddy is made up of high-tech materials intended for long-term usage. The child can wear it as an accessory around the neck.
-The smart lifesaver features a built-in moisture sensor, that activates when it comes in contact with the water.
-It then activates the air pillows to inflate similar to airbags deployed in vehicles. But they open slower (3-4 seconds) than the airbags of the vehicles but sufficient enough to prevent accidental drowning.
-The air pillows are positioned ergonomically which facilitates stable positioning of the head and allows free breathing.
-In addition, the inner string of the collar protects the kid from any sort of suffocation.
-All these cascades of events ensure the child stays for a sufficient amount of time on the water until rescue arrives.
-Once the child has been rescued, the collar can simply be taken off.
Also Read: Game-changing Glowstone 900 Lumen flashlight likely to end traditional flashlights
Smartmedic claims the prototype received a positive response from parents when it is displayed at various international trade shows. The company is now heading for mass production of the device.