Not long ago, One Plus has rolled out open Beta Oxygen update for Beta testers of both One Plus 5 and One Plus 5T. For those that are unaware and not signed up for beta testing, don't worry! One Plus has started distributing Oxygen OS 9.0.0 OS update to both the users of One Plus 5 and One Plus 5T as a Christmas present. It seems the team has worked overtime to ensure the release of the OTA update on the Christmas eve.
One of the company employees posted the information on One Plus forum
. According to him, One Plus took the feedback of the beta testers and managed to optimise certain key areas. The rollout of the OTA updates would be incremental and it will be available only a few users today. The company is said to roll out the update en masse in the coming days. The Android security patch is bundled with new features and system improvements.
Let's take a look at what the system update has under its hood for both One Plus 5 and One Plus 5T:
-The update Includes a brand new UI for Android Pie and navigation gestures exclusive for One Plus 5T.
-It brings in new Gaming mode 3.0 with text notification and added notification for third-party calls.
-Also, included in the update is the Do not disturb (DNB) mode with adjustable settings.
-The camera now comes with integrated Google lens mode for enhanced visual searches.
-The update occupies 1.742GB for One Plus 5 and 1.748GB for One Plus 5T.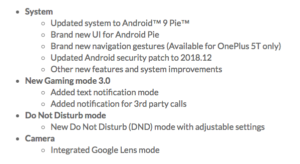 Also Read: Huawei to launch Mate 20 Pro and Nova 4 commemorative editions to celebrate 200 million smartphone sales