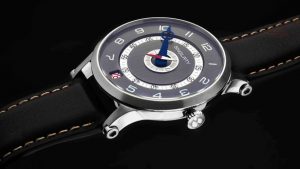 With the rapid advancement of technology, we can see the addition of more and more gadgets to the already existing plethora. Nowadays, as the average earnings of the people have gone up, they are not shedding behind their cravings to purchase the latest gadgets by paying higher prices to stand out from the crowd. Keeping in view, many companies are coming up with latest gadgets that not only embrace the latest technology but also making sure that they are also innovative. In a latest, Hongkong based watch firm Swiss Reimagined have made a wristwatch that goes by name SNGLRTY. The uniqueness of this watch is that it accurately displays the hours and minutes with a single hand making it the worlds first wristwatch with this capability. Sounds weird and unbelievable?
Let's go through the design details that made it possible. The conventional mechanical watches contain two hands one that represents the hours and the other for minutes. With the passage of time, a seconds hand was added for an enhanced, accurate interpretation of time. But it poses the problem to display the time clearly with little error. Although the digital displays have offered the solution but representing the time accurately with only a single hand in a classic analogue way proves quite challenging. This is where the approach followed by SNGLRTY gathered immense interest. It follows an approach called One Hand Indication (OHI).

The design that made it possible:
The single hour hand has a circle in it that frames numbers in a rotating minute disc which is designed to line up with the current hour. The minute's hand rotates in the counter-clockwise direction. So it makes it possible to read the time accurately at a single glance. In addition, the watch also contains a separate seconds disc on the dial axis and date at 6 o'clock.
Also Read: This system allows operators to control robots with their mind: MIT research




Versions of SNGLRTY:
It comes in three versions, i.e., Premium-grade-OHI4, middle-grade-OHI3 and the economical-OHI2 series with the different calibre and finish options. Although the price and availability of these models are yet to be announced, the company is planning to launch a crowdfunding campaign in February.