Ridy, the drivers smart assistant constantly monitors drivers face and alerts them instantly if it detects danger. The road accidents kill thousands of people every year and the majority of the accidents are due to drowsy or distracted driving. Even though we are well aware that we must avoid driving when are drowsy or distracted, but we fail to realise in reality when we are in those situations. The major risk group include parents, shift workers, college students, professionals and long distance drivers.
With the evolution of technology and Internet, we are much addicted to gadgets and can't stay out even for few minutes. Such is the addiction that we tend to check Facebook, Instagram and emails when we hear a beep alert from the smartphone even during driving. It is very challenging for young parents to drive without distraction when they go along with their kids. With an aim to address all these problems, Ridy has come up with a solution to assist the drowsy and distracted drivers.
How to set up Ridy?
Setting up Ridy is relatively easy, it takes less than 60 seconds. It can be used in a wide range of vehicles from cars to large trucks. Ridy even works in the night as it is equipped with infrared LED cameras. You need to connect Ridy to the power source and can mount it in the rear mirror, windshield or dashboard. When you are using it for the first time you need to calibrate the device so that it detects the normal head position. Ridy equipped with an onboard camera continuously monitors drivers face and scores certain events like frequency of eye blinks, the number of times they look away from the road and facial expressions such as yawning. Ridy, using its real-time vision analytics, and warns the drivers with messages like "Keep your eyes on the road" based on the overall scoring of the events. In extreme cases, it issues warning with a loud and strong beep that says "Danger! Danger! Wake up".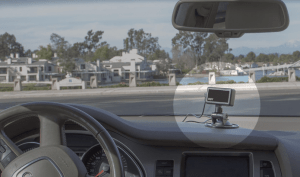 Also Read: These Smart windows coated with micro-mirrors adapts to various seasons




Further, the users need not worry about privacy as Ridy doesn't record any videos. Ridy's central processor processes the videos, and it discards them instantly. To kick-start the manufacturing process, it's creators have turned to IndieGoGo for financial support with a goal to raise $25000. So far the project is funded by 133 backers, and so far raised an amount of $13614. Iy you pledge $89 for the project, you will be getting one unit for yourself and the estimated retail price of the device is $139.